Judy Laufer: Our choices make all the difference
by Mala Blomquist (Read Article on Arizona Jewish Life)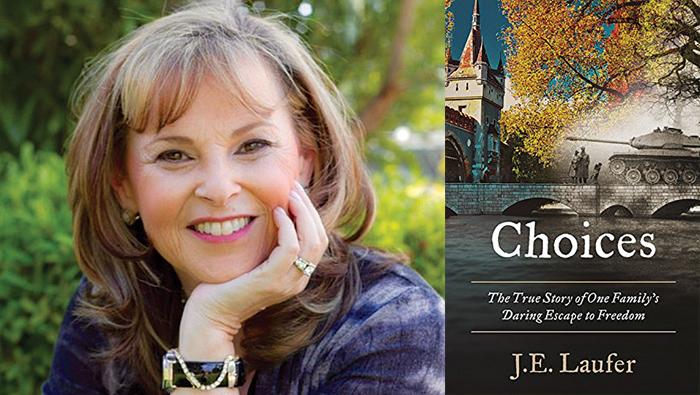 Judy (pen name J.E.) Laufer started writing children's books to fill a void, both in her life and in the library. She was working as a kindergarten teacher and writing curriculum for the school board in Montreal, Canada when her father passed away. Her niece, who was 5 at the time, was having a difficult time with the transition. "I thought, 'I'm a kindergarten teacher, I should be able to help her,' so I went to the library, and there was nothing for young children in that age group about a person dying," explains Judy.
Judy had always loved writing, so she took matters into her own hands and wrote a children's book titled, Where Did Papa Go, sharing the things her niece liked to do with her grandfather, hoping that it would help her through this difficult time. "As a kindergarten teacher, I try to look at the positive side," says Judy. "As long as we have memories of that person, they never really die."
Her next children's book, Last Night I had a Laughmare also focuses on a difficult situation for children – nightmares – and turns it into a positive one. "Research suggests that kids have nightmares because they saw or heard something scary before they went to bed," explains Judy. "I thought if this is true, then the opposite should be true too." She developed a cast of characters with names like Liverlips, Smellyfeet, Purplepudding and Dishes who all reside in Gigglyville.
"Gigglyville had all these fun characters, so kids want to go to bed," assures Judy of reading this book to your children as a nighttime ritual. "Part of the process of developing a pattern and good experience – also helps to put kids to bed."
For Judy's third children's book, she decided to focus on a subject very essential to young children – their birthday. Since everyone blows out candles on their birthday cake and makes a wish, Judy titled her book, What's Your Birthday Wish? And since it came out around the 2016 election, she decided to make one of the wishes that everyone has to be nice to one another!
While Judy was working on this last book her mother, Kati Egett, had a milestone birthday, turning 90. At this time, her mother started sharing stories and details about how the family left Hungary and arrived in Canada when Judy was almost 2 years old.
She told of how the entire family escaped Hungary during the revolution and ended up in Austria, where a 16-year- old Catholic girl, named Annemarie Just, whom they met on the street, offered them shelter in her home.
"Can you imagine a 16-year-old girl saying to complete strangers, 'Come live with us,' and then her family agreeing?" asks Judy incredulously. "They could have helped us in ways that weren't so personal as taking us into their home. It was a small apartment. My brother and I slept in Annemarie's room, and my parents slept on a hide-a- bed in the living room. Annemarie slept in a room with her brothers. It was an unbelievable act of human kindness." The more details her mother shared, the more Judy felt compelled to write a book sharing her family's experience.
"As I was writing the book, there were so many parts in the story where it would be completely different if not for the choices that were made," says Judy. At the time of the Hungarian Revolution in 1956, 200,000 people left Hungary for Austria. Many people were placed in displaced persons camps, the thought of which was terrifying to Judy's parents, who were both Holocaust survivors. "Mom was the only survivor of the Holocaust in her family," says Judy. "She went on one side of the train tracks, and her parents and three younger siblings went on the other." They were all killed.
"What happened as a result of circumstances coming together, as a writer, were hard to ignore," says Judy. "My dad left audio tapes, and my mom had very good recollections." Her father, Adolf Egett, had felt that it was very important that these stories be collected and shared. "In those tapes was information about what had happened." So between those tapes, her mother's memories and internet research, Judy was able to weave the story together.
She also had help from another key player – Annemarie. Years earlier, Annemarie had found Kati, and they had been exchanging holiday cards. Judy had discovered that Annemarie was a grandmother, so she had sent her some of her books along with a thank-you card. Judy hoped someone would translate the card because she knew that Annemarie only spoke German. To Judy's delight, Annemarie responded with an email, and using Google translate, Judy wrote her back in German.
Judy and her husband, Nathan, had been planning a trip down the Danube River and would be going through Vienna. When she told Annemarie of her plans, she said that she had to see them. "She met us at the boat with her husband and granddaughter," says Judy. "Her granddaughter was the interpreter. She would translate for us." Judy told Annemarie about her plans of writing the book, so soon she started sending her information to include.
"My challenge was to write it so that it was true to my mother's story so that she would feel proud and good about the story," explains Judy. "Also for Annemarie, to make sure – remember I am getting information on Google translate – that I am getting the right story, that I am portraying her family as she would have wanted them to be portrayed. It's a very delicate balance. The story by itself is an amazing story, but how do you tell it so that you capture that amazing piece of it? There were several times when I put it aside because it was too emotional for me."
After three years of perseverance, Choices, The True Story of One Family's Daring Escape to Freedom was published last April, and Judy has been overwhelmed by the positive response. "People who know me, read the book and they obviously know it had a happy ending, but people who don't know me, read the book and are unsure of what happened to this family," she explains.
A line in Judy's introduction in Choices makes you stop and think about how all of these lives became intertwined at precisely the right moments, "It's a tale of bravery, selflessness and a little bit of luck. Or perhaps it was divine intervention. You decide."
All of Judy's books can be ordered by visiting her company, littleeggpublishing.com.