About Little Egg Publishing
Little Egg Publishing is a children's books publisher that focuses on powerful and educative children stories that both parents and kids can enjoy.
How Little Egg Publishing was "hatched" happily ever after… The story of J.E. Laufer and the Little Egg Publishing Company
---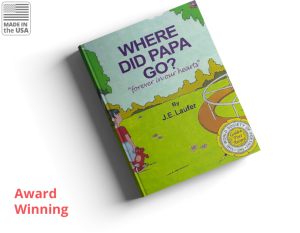 Once upon a time, a young woman named Judy Egett Laufer or "J.E." for short, decided to write a children's book because she loved poetry, rhyme, and children. She wanted to write a story about her wonderful father, who had just passed away. It needed to be written in the language of children, and it needed to capture their feelings.
After she finished writing, J.E. looked and looked for someone to publish her book. Although she kept hearing, "Not now, not yet, maybe soon," she knew her dad's story should be told. Unwilling to give up, young J.E. decided to self-publish. She created a publishing company of her own, and she called it "Little Egg." Since her maiden name was "Egett," the name seemed fitting!
J.E.'s first story was called Where Did Papa Go? and she looked and looked for someone to help her get started in the publishing business.
As for the story of Little Egg, it has a very happy ending. "Hatching" new titles of rhyming, uplifting picture books for children ages 3-7, J.E. has more delightful books coming soon!
Judy Laufer
---
Last Night I had a Laughmare
Bedtime means PLAYTIME in Gigglyville! Join Liverlips, Smellyfeet, Purplepudding and Dishes in a make-believe land of adventure.
What's Your Birthday Wish
New book inspires childrne to think big and make birthday wishes that will impact the world
Where did Papa Go?
Where Did Papa Go offers a sensitive, personal opportunity for adults and children to explore together their reactions to death and work through the stages of grief that everyone who loses someone special experiences.